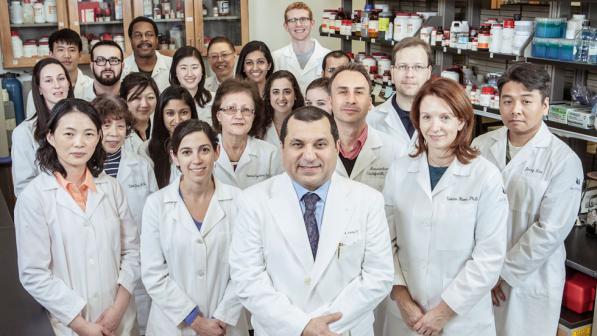 Advance MS Research. . . Give a Gift Today!
The Tisch MS Research Center of New York is dedicated to finding the cause of and cure for multiple sclerosis. Tisch MS focuses on translational research, bringing findings quickly from the laboratory into clinical application to treat symptoms of MS and to halt or reverse damage caused by the disease. The current groundbreaking research initiatives underway hold great promise, but come at a substantial cost. Tisch MS's lean business model allows for the money raised through generous donations to go directly to research, not overhead. Your tax-deductible contribution will make a difference in the lives of MS patients and advance our understanding about the disease by helping us to continue developing effective therapies and finding a cure for the disease.
---
WAYS TO GIVE
Patient Fundraisers
The Development Department often receives calls from grateful IMSMP patients asking how they can help raise money for the unique and exciting research being conducted at MSRNCY. These calls are most welcome since these initiatives multiply resources to fund and therefore accelerate research.
From tag sales, to special events, to golf outings, to appeals for donations in lieu of wedding gifts, patients create many generous and creative opportunities for their family members, friends, and business contacts to give to the Center. And, in addition to raising much needed funds, these individuals also raise awareness about MS, IMSMP, MSRNCY, and the importance of the cutting-edge research and therapies being developed in our laboratory to improve the lives of patients.  Because of our minimal administrative costs, money that is raised goes directly to the laboratory, its operations and projects to further our efforts in discovering the cause of, and one day the cure for, MS.
The Development Department will provide event planners with any supporting materials they need. Contact Kimberly Woodward, 646-557-3861 or kwoodward@tischms.org for more information.
Tribute Gifts
Memorial and Gifts in Honor
A memorial donation or gift in honor of someone special, in any amount, is a meaningful and hopeful way to support Tisch MS's mission. You can acknowledge a special occasion or commemorate a life event through this way of giving.

Wall of Hope
For $2,500, $5,000 or $10,000, you can add a plaque inscribed with your personalized message to the beautifully designed Wall of Hope, centrally located at our facility and visible to over 11,000 patients and visitors who come to the Center on an annual basis.  
Contribution Cards
For $50, you may purchase five contribution cards, blank greeting cards that can be personalized while indicating your contribution and support of MS research.
Wedding Gifts and Special Occasions
Make your wedding or next special occasion even more meaningful by turning it into a way to support the vital work of Tisch MS Research Center. When you make a gift to TMSRCNY in lieu of traditional party favors, we will provide favor cards to commemorate your generous donation.
Your favor cards can be personalized with your own message to honor or memorialize a loved one, or simply to share your spirit of loving commitment with your guests in your own words.
Employee Matching Gifts
Many employers will match your personal donation. Check with your company to find out if they have a matching gift program so you can double or triple the impact of your gift.
Gifts of Stock
Making stock gifts can be a tax-advantaged way to support Tisch MS. Your broker can assist you in making a direct transfer of stock to Tisch MS as a charitable gift. Please contact Sophie Deprez, Director of Development (646-557-3861 or sdeprez@tischms.org) for stock transfer instructions. 
Planned Gifts
You can help play an important ongoing role in sustaining Tisch MS. Planned giving can benefit you, your loved ones, and Tisch MS's mission. Planned gifts enable charitable donations at a level that you might not have thought possible, while maximizing tax benefits for you and your family. Please contact Sophie Deprez, Director of Development (646-557-3861 or sdeprez@msrcny.org) for more information. 
Shop for MS
Shop away at the following websites: giftsthatgive.com, igive.com, givebackamerica.org, and goodshop.com. Enter Tisch MS Research Center of New York as your charity/cause. 
Sell for MS
The eBay Giving Works program allows sellers to designate proceeds from their eBay sales to Tisch MS. For details, visit missionfish.org.
HOW TO GIVE
Online Donations
Credit card donations can be made safely and securely through our online donation form by clicking on the button below. Support Tisch MS research today!
Donations by Mail or Fax
If you prefer to mail or fax your gift, please print the PDF form below to make your donation today. 
Download Tisch MS Donation Form (PDF)

Checks or money orders made payable to: Tisch MS Research Center of New York
Mail to:
Development Department
Tisch MS Research Center of New York
521 W. 57th Street, 4th Floor
New York, NY 10019 
Fax to: 646.557.3901
  Fax to:   646.557.3901
When making a tribute gift, please include your name, address, phone and email address, the name of the person you are memorializing or honoring, any special note, and the name and address to which a notification of the gift should be sent.
Donations by Phone
Please call us at 646.557.3900 to make a donation over the phone using your credit card.
For more information on supporting Tisch MS, please contact Sophie Deprez, Director of Development, at
sdeprez@msrcny.org
 or 646.557.3861.
Tisch MS Research Center of New York is a 501(c)(3) non-profit organization
Federal tax-exemption identification number is 25-1922851